The Holisticare team is a close one. We support each other and see our patients as being part of the Holisticare family.
Our therapists are from diverse backgrounds and have trained to the highest standard in Myofascial Release, now specialising in the technique. 
We all share a passion and belief that people do not have to live with pain and can have a much better quality of life controlling their conditions and their symptoms. 
What training have we had?
All of our therapists hold an internationally recognised bodywork qualification


All our therapists have completed multiple courses in John Barnes Myofascial Release in the UK, through MFR UK


Between us we have also attended many courses in America to train with John Barnes


All of our team members hold a current First Aid Certificate and enhanced DBS clearance
Training is a continuous process at Holisticare:
When one of us returns from a course we share our knowledge with the other therapists
Our team meetings provide a time to share techniques and ask questions
Our therapists are always available for each other to provide a helping hand or suggest a solution
We regularly attend courses in Myofascial Release
We also regularly read the latest research in fascia as it is shared online by professionals in the field
Specialist Myofascial Release Physiotherapist
Nikki is one of the top Myofascial Release physiotherapists in Europe. She qualified as a physiotherapist from the Queen Elizabeth School of Physiotherapy in Birmingham in 1993, then worked in the NHS and Australia.
She has trained in Myofascial Release both in the UK and America. In 2006, Nikki founded Holisticare, starting the business and growing it to over 3,000 patients. She lives in Hatfield Broad Oak with her husband and 3 children and plays an active part in village life.
Nikki is a member of the Chartered Society of Physiotherapy and is registered with the Health & Care Professions Council. She has also joined the Fascia Research Society and Fascia Hub, giving her access to the latest research and journals from around the world.
She is a horse owner and she combined her two passions to write her book Pain-Free Horse Riding. This is a practical guide for horse riders of all abilities and disciplines to show them how to reduce and prevent pain. It has been published in the UK and North America, and is available worldwide on Kindle e-book.
Her latest book is called Manage your Pain: Transform your Life. This is a must have for every household, showing you how to treat your own aches and pains.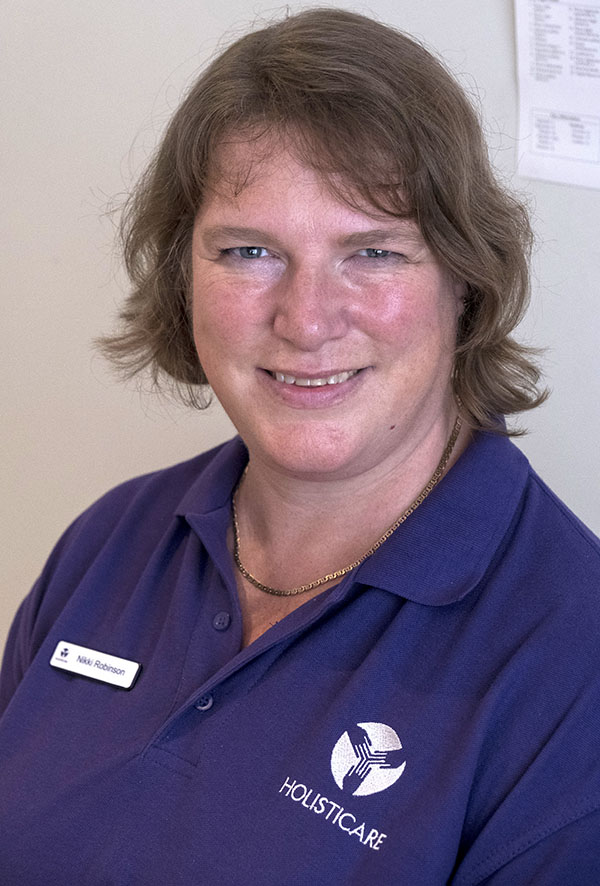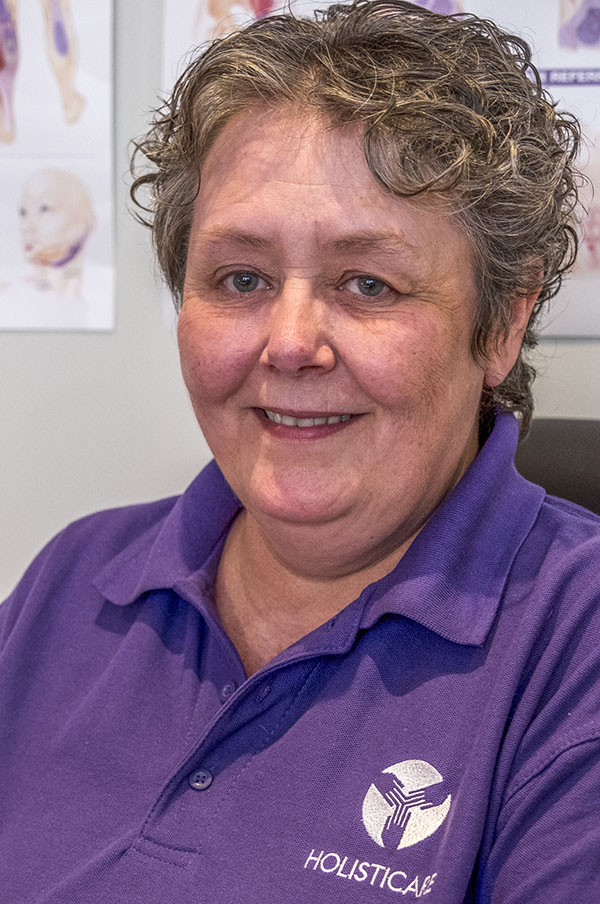 Myofascial Release Therapist
Ali joined the Holisticare family in February 2016 following a long career in training and development. During this time she trained and qualified as a Neuro-Linguistic Programming practitioner. Having seen the amazing impact Myofascial Release can have on people's lives Ali was inspired to train as a Myofascial Release therapist.
Qualified as a massage therapist with an ITEC Level 3 Diploma (Merit) in Massage, Ali went on to complete her specialist Myofascial Release training at MFR UK, the UK's leading Myofascial Release training provider. She has completed multiple courses including MFR Levels 1-3, MFR Assessment and integration, and Myofascial Unwinding.
Ali has lived in this area most of her life and currently lives in Great Hallingbury with her husband, daughter, and a pair of extremely cute Jack Russells. She has a great love of horses (having ridden and worked with horses for many years) and particularly enjoys treating riders as she understands how your pain can impact your horse's performance.
Myofascial Release Therapist
Sally moved to Hatfield Broad Oak in 2005. Prior to joining Holisticare in 2011, Sally trained as a Massage Therapist and achieved an ITEC L3 Diploma in Massage. She went on to study Myofascial Release in the UK and then in America with John Barnes, covering Myofascial Release One, Two, and Myofascial Unwinding.
Sally has a natural affinity with her younger patients and subsequently returned to America to study Paediatric Myofascial Release in 2016. She also completed the Fascial Pelvis and Women's Health courses with John Barnes in 2017.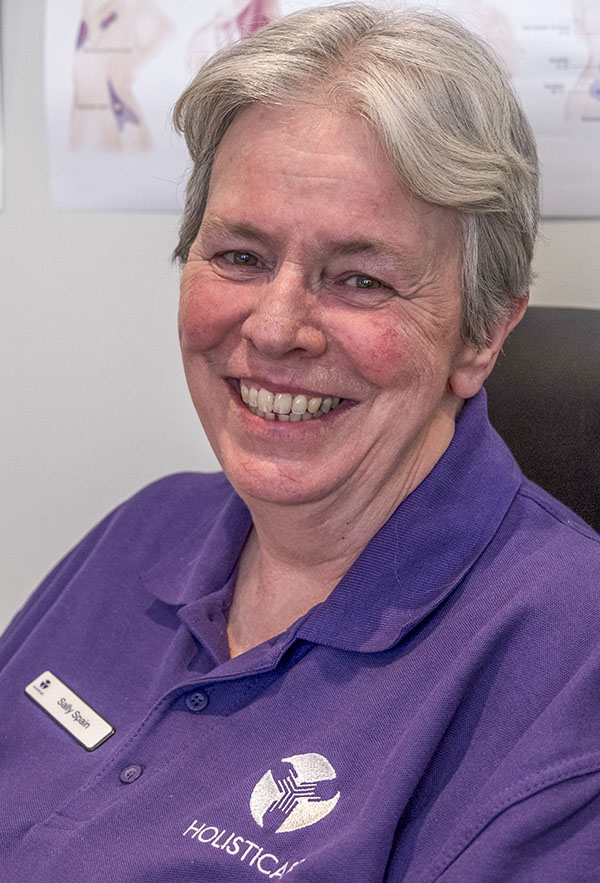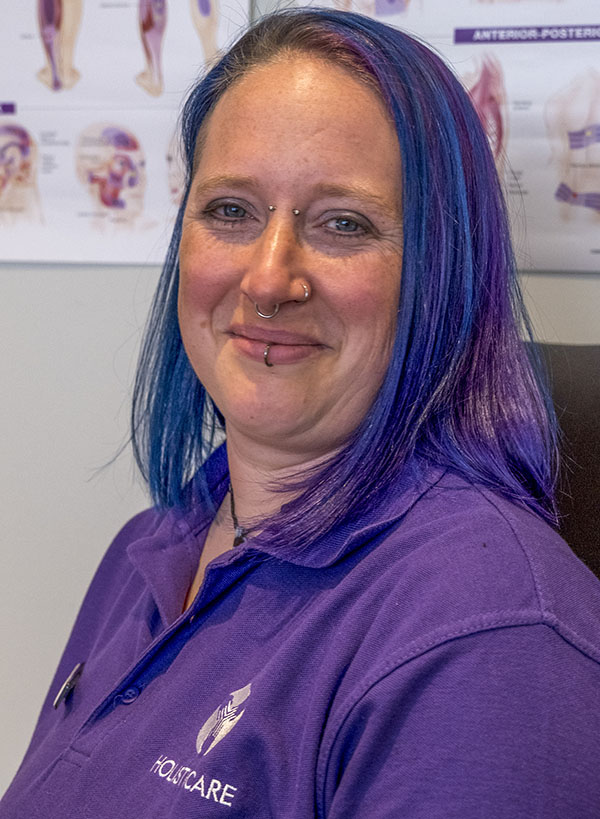 Myofascial Release Therapist
Claire has trained extensively with John F. Barnes in the USA in the practice of Myofascial Release (MFR). As well as offering general MFR, Claire offers both Women's Health and Men's Health treatment, utilising recognised Myofascial release techniques to treat pelvic pain, pelvic floor tightness and the associated symptoms.
Most recently, Claire completed a 200hr Myofascial Yoga Teacher Program. She is thoroughly enjoying this new way to support and empower patients and is able to offer Myofascial Yoga classes and one-to-one sessions.
Receptionist and Admin Assistant
Al has a BA(Hons) in Music and English and has had a career in imports, administration and customer services as well as coaching primary age children in singing and drama.
She joined the Holisticare team in 2017, where her organisation skills and eye for detail have been a huge asset.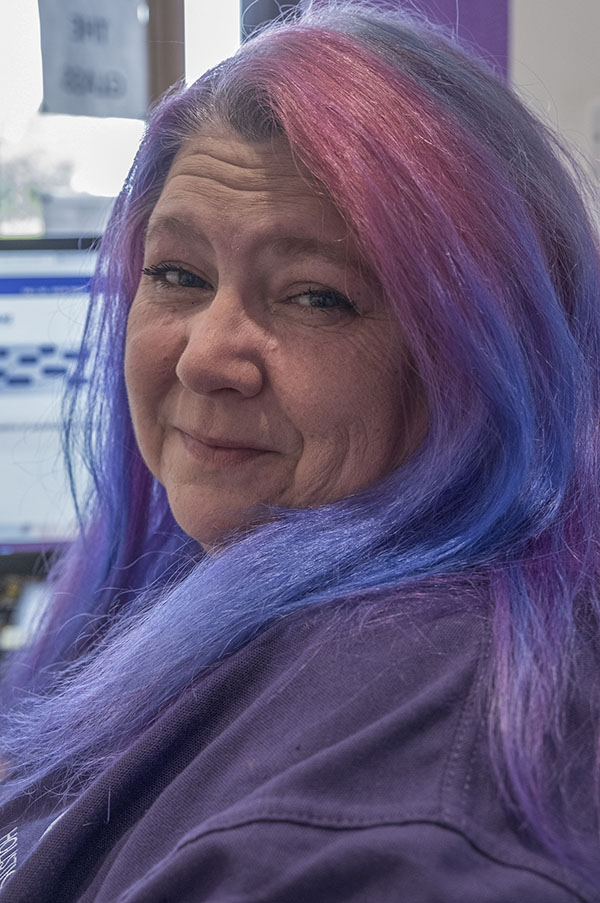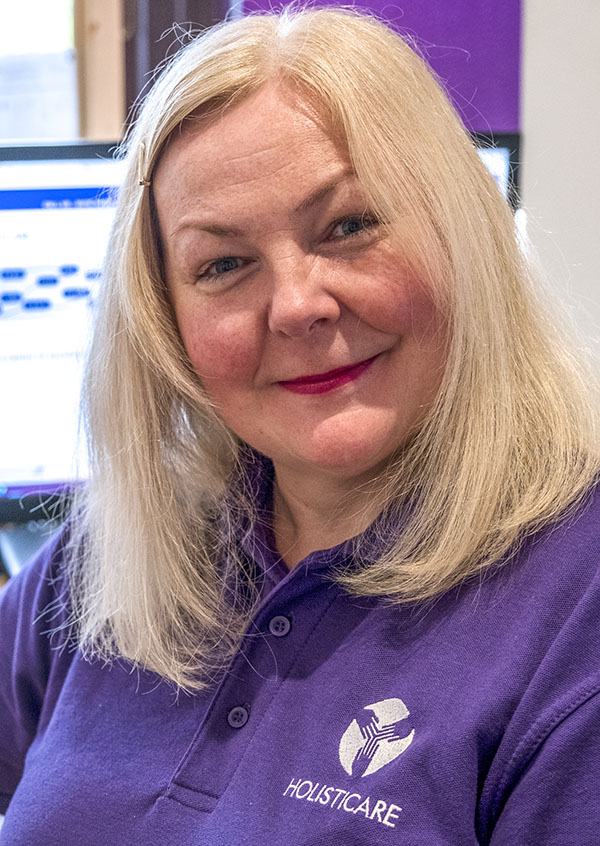 Receptionist and Admin Assistant
Jacina lives in the local area with her husband, her two children, and two very spoilt horses. After a long career flying with TUI as an air hostess she took a career break to spend more time with her family and has kept her feet firmly on the ground ever since.
She joined the Holisticare team in 2015. Jacina's warm smile is a lovely welcome when you arrive for your treatment, and she loves looking after our patients and therapists.
When she makes time for relaxing, you'll find her watching Coronation Street with a large coffee and cake!